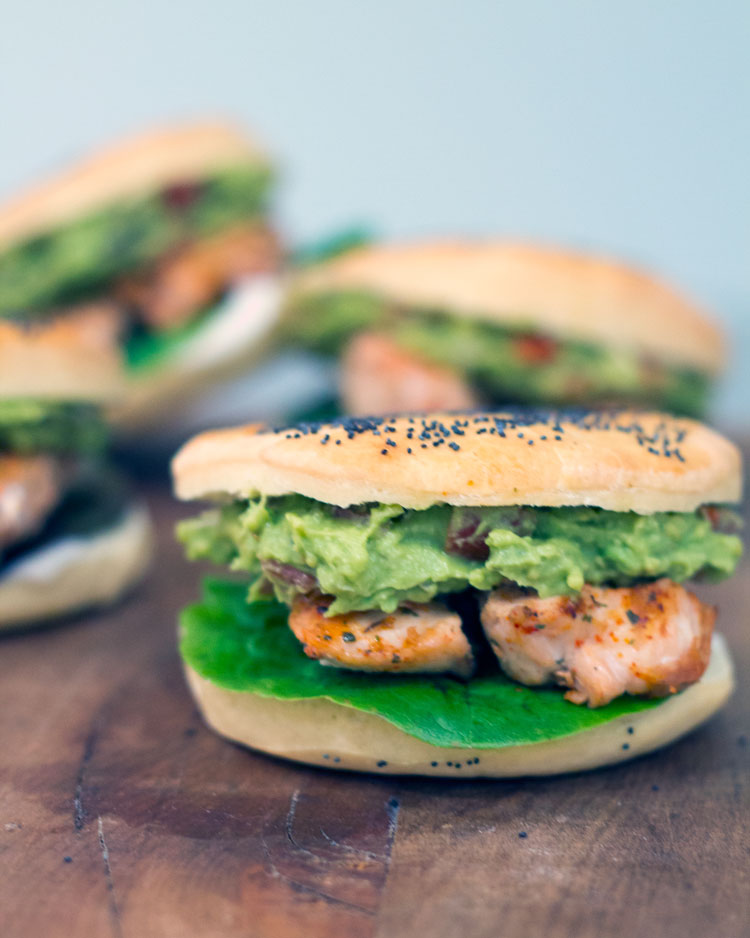 Sarah woke up the other day and decided that we were going to have chicken burgers for dinner and that I was making them. Challenge accepted. Can I make a chicken burger from scratch?
Preparing the Chicken
First things first, what I had in mind for these burgers was not ground chicken but chicken tenderloins. Unfortunately I did not have any tenderloins and only some small breast pieces of Waitoa free range chicken.  No worries, these will do fine. I simply sliced off the tenderloins and then the breasts in half so they were all similar sizes.
Now, this chicken needed some flavour so I fell back on a tried and tested method of a nice spice rub and brining the chicken in beer.
The rub was made up of
Salt
Pepper
Onion Powder
Paprika
Dried Thyme
Dried Parsley
Dried Oregano
Crushed Garlic
Fantastic, but I did not have a bottle of any commercial beer in the fridge. Luckily I happened to have  a fridge full of some delicious home brew. A fantastic big hopped American Pale Ale. It worked perfectly and if you're following along at home, any big hopped American Pale Ale will work for this.
With the chicken rubbed and soaking in a ziplock bag full of beer I cast it aside in the fridge to brine for the rest of the day. I recommend a minimum time of 4 hours for the chicken brine. Ample time for all of the flavours to be absorbed.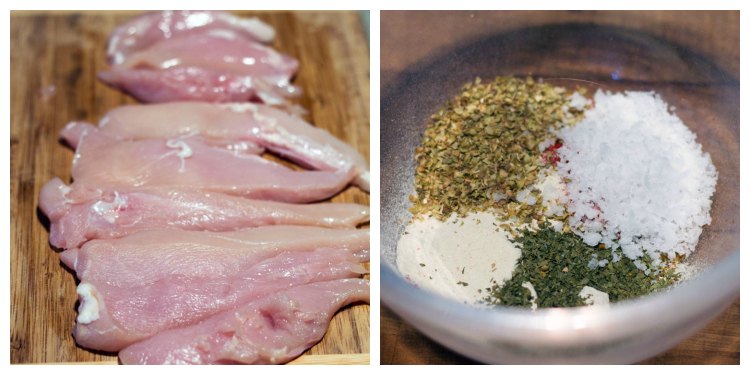 Making The Burger Bun
Now for this I decided that I want to go all out, aside from raising my own chooks to use the next best bet was to bake some burger buns. Following a recipe from the book Sliders and Rollers I managed to create some adequate buns as a vessel for these burgers. They are really quite simple:
Flour
Yeast
Salt
Melted Butter
Milk
Egg
The recipe called for a bread maker but I found the KitchenAid did the trick just fine. The end result was a thin bun with a crispy outer crust and a soft interior. The thinness of the bun really helped when it came time to eat as they were easy to wrap your mouth around.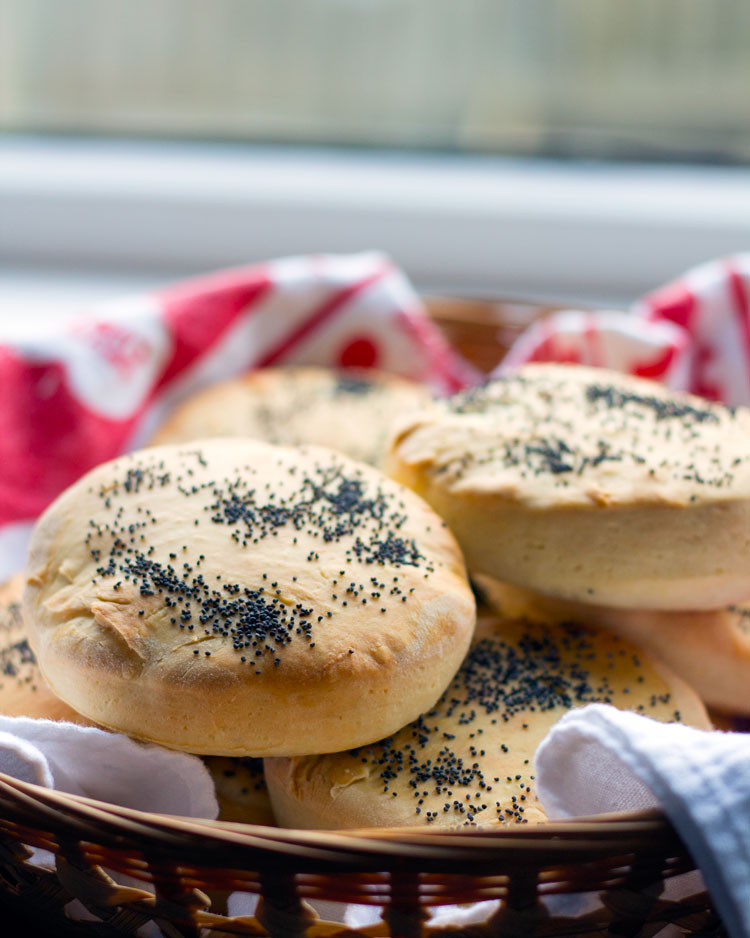 Fresh Avocado Guacamole
It would have been easy to slice an avocado and call it a day, but we were going all out remember. So this part of the burger was all Sarah. She has made this guacamole for me plenty of times and she does such a great job of it that I've opted out of learning how to do it myself. Again, this is simple to make just grab a few fresh ingredients and combine them:
Avocado
Red Onion
Cherry Tomatoes
Crushed Garlic
Lemon Juice
The end result is quite tasty and rather spectacular.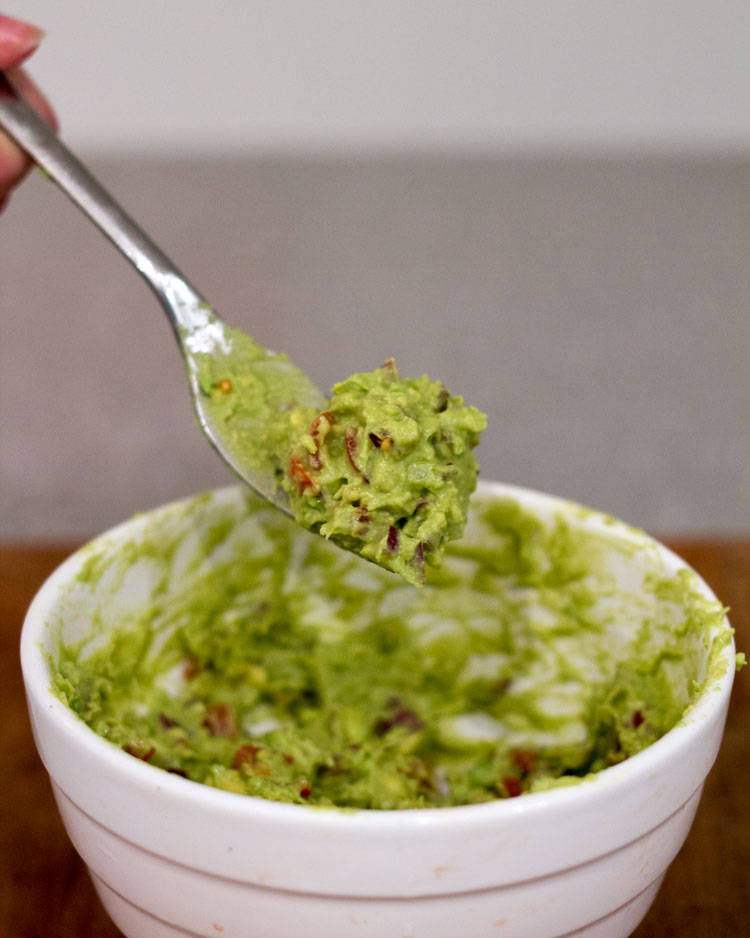 Grilling the Chicken
After the chicken has been soaking all day in that delicious beer the time came for it to part ways and make its way to the grill. As we were using a small amount of chicken for just the two of us I felt that the One Touch Silver would be a bit overkill and would take way more fuel than needed for the chicken.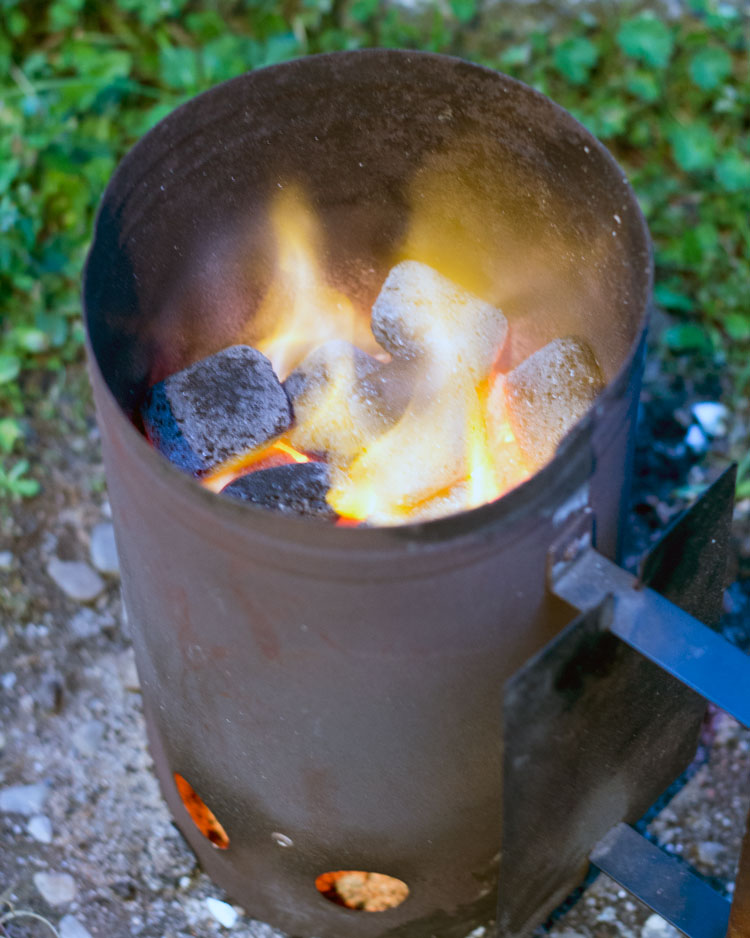 So out came the Weber Go-Anywhere portable grill. This is a fantastic little grill that doesn't really get as much use as it should. Ultimately perfect for what I wanted to do for these burgers. As I was doing a quick fast grill I was able to re-use a bunch of used briquettes, saving heating up unused ones for a short amount of cooking time.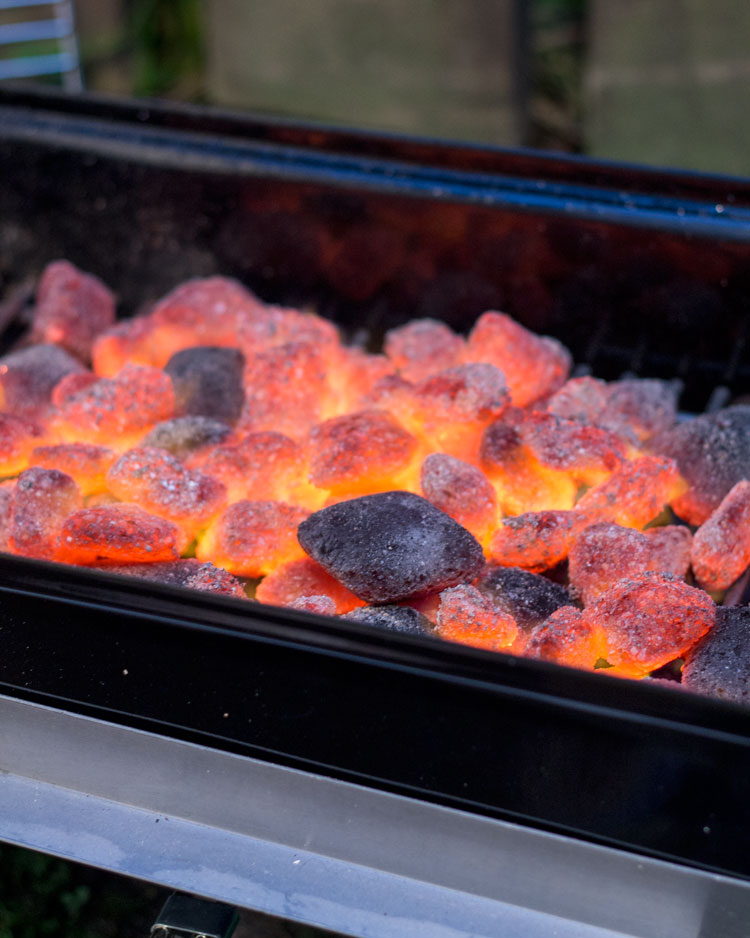 The chicken only needed a couple of minutes either side. I grilled until the flesh was slightly charring before flipping and grilling the other side. One of the risks when grilling chicken breast is drying it out, thanks to our chicken swimming in bear all day the moisture and flavours remain, leaving us with delicious moist chicken flesh waiting to fill our burgers. After removing the chicken from the grill if you like your buns toasted give them a quick go over the coals – make sure you don't char them.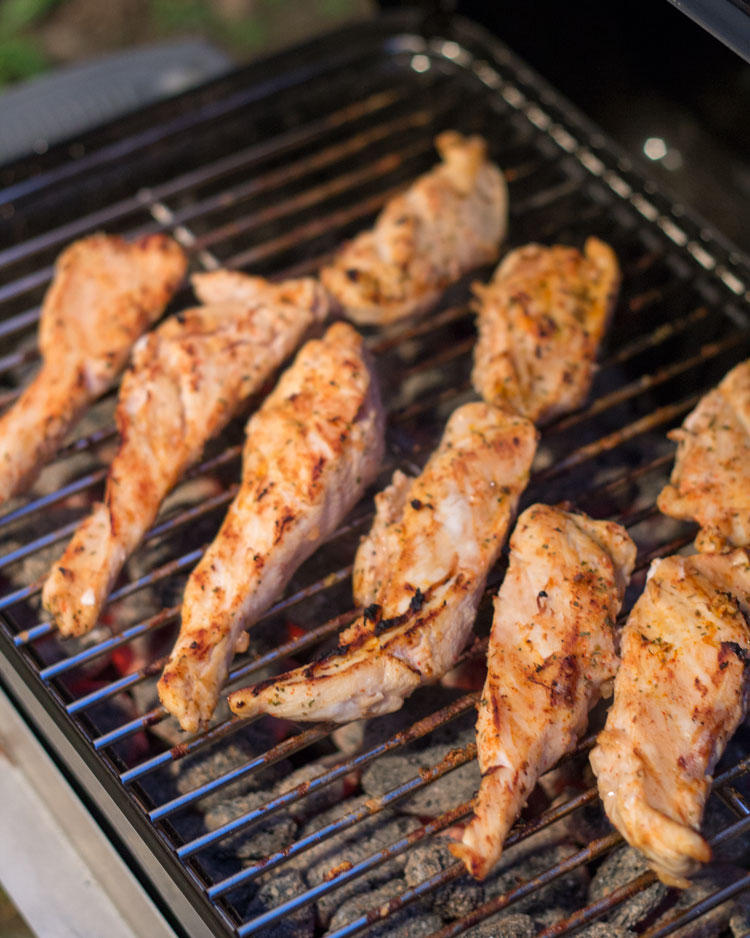 Constructing The Grilled Chicken Avocado Burgers
Finally, we have everything we need for these grilled chicken avocado burgers and I can already taste them before having even put them together. The final ingredients required are simply:
Begin with spreading mayonnaise on the bottom part of the bun and cover with a couple lettuce leaves. Next comes the chicken, I managed 2 slices. Take the top bun and spread the guacamole generously, don't be stingy, it should be spread thick. Bring it all together and dinner is served.
That night we enjoyed our burgers with curly fries, two burgers each. Total gluttony. I can't wait to do it again.
These grilled chicken avocado burgers are a perfect way to end the weekend with a cold glass of beer.
You'll Need…
!For the Chicken
4 cloves garlic, crushed
1 teaspoon dried thyme
1 teaspoon smoked paprika
1 teaspoon onion powder
¼ teaspoon cayenne pepper
1 teaspoon black pepper, ground
1 teaspoon sea salt, ground
1 bottle of American Pale Ale style beer
!For the Buns
3 tablespoons butter, melted
1 egg
1 cup milk
520g all purpose flour
1 teaspoon salt
1 teaspoon / packet active dry yeast
1/4 cup water
1/4 cup sesame or poppy seeds
!For the Guacamole
1 ripe avocado, sliced, cubed
1 garlic clove, crushed
1 handful cherry tomatoes, de seeded and diced
1/2 red onion, diced
Lemon juice to taste
!The rest
Fresh lettuce leaves, washed & dried
Mayonnaise, your favourite
Directions
!For the Chicken
Combine all dry ingredients with the garlic in a bowl, and coat chicken
Add chicken and beer in a zip lock bag and refrigerate over 4 hours minimum
!For the Burger Buns
Whisk 2 tablespoons melted butter, egg and milk in a bowl.
In the KitchenAid bowl add flour, salt and yeast and pour in the wet mixture and set the KitchenAid to speed 2 with dough hook and mix for 10 minutes
Move dough to a lightly floured surface and roll to a 1-1.5cm thickness.
Use a 20cm cookie cutter to cut out the dough and place on a lined baking tray and sit to rest for 1-2 hours - these should rise a bit - but not too much and preheat oven to 190°C
In a bowl combine the remaining melted butter with 1/4 cup of water and brush over dough with a brush, sprinkle on seeds
Bake for 15-18 minutes until nice and brown - baking times may vary depending on your oven
!For the Guacamole
Combine all ingredients in a bowl and whisk with a fork, add lemon juice to taste, you want a nice thick consistency
!Putting it together
Prepare your grill for high heat direct cooking
Grill the chicken for 5-7 minutes per side, this will depend on the thickness of your chicken
Lightly toast the buns over the grill after removing chicken
Spread mayonnaise over the bottom bun and add the lettuce
Top up with the chicken before spreading a thick serving of guacamole on the top bun and bringing it all together.
Serve immediately with fries and a cold beer