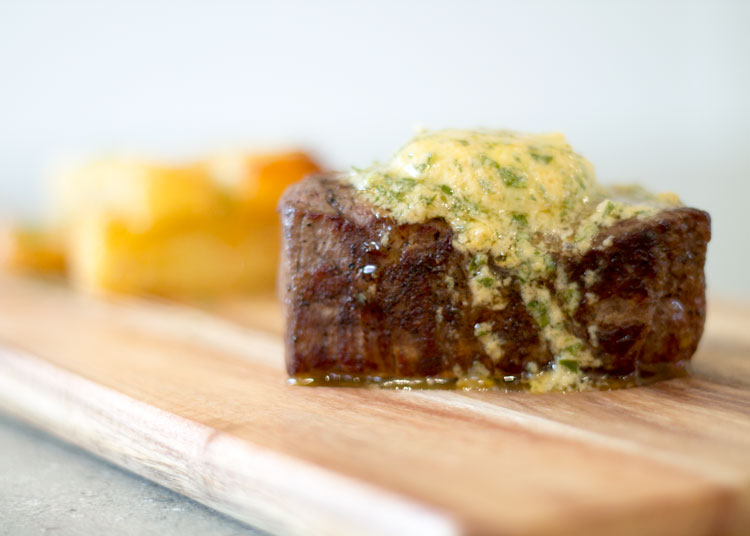 Eye fillet with garlic butter has quickly become a favourite dish of mine the last couple of weeks.
When we have eaten out and I have seen this on the menu I have made sure that I have ordered.
I have tried with various cuts of steak, sirloin, porterhouse, rib eye but have come to my own conclusion that I love this with eye fillet.
If you have the time and inclination cooking steak using the reverse sear method works fantastic for this dish.
If you don't want to go through all that effort, then simply grilling or frying for 3-4 minutes per side and resting wrapped in foil for a further 5 for a perfect medium rare finish will do perfectly fine.
The magic for this dish really happens at the end.
Right after the steak has rested, while the grill is still warm garb a nice slab of garlic butter and pop it on top of the steak.
Put the steak back inside the grill and cover with lid for 30 to 40 seconds – enough time for the butter to begin to melt.
There you go, the warmth of the steak will do the rest.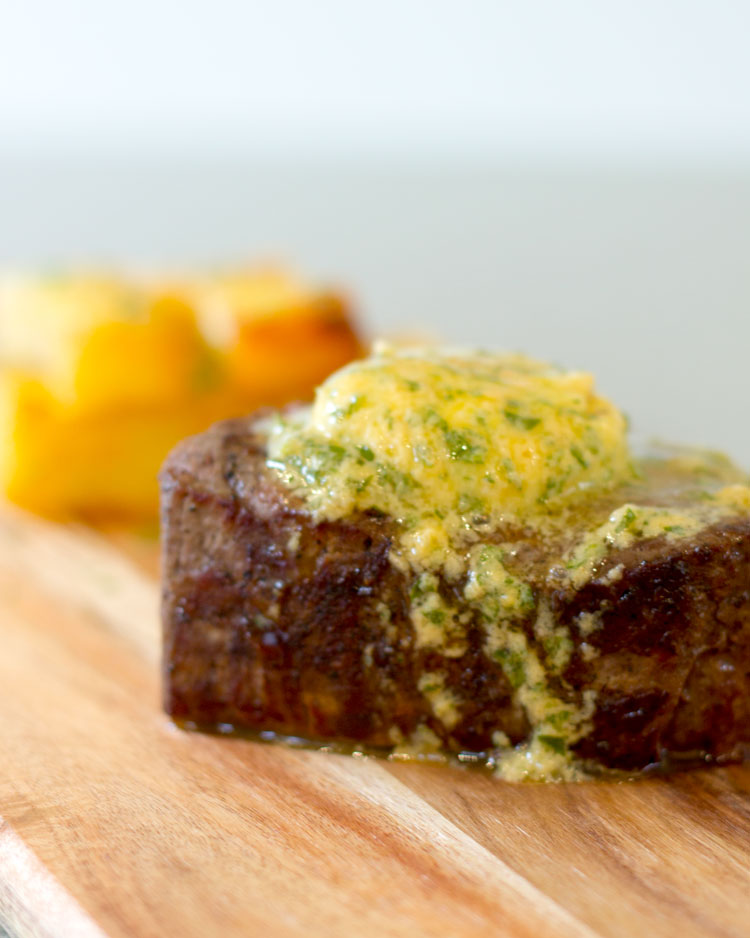 Serve with hand cut chunky fries and a glass of good beer. Enjoy
Eye fillet steak cooked medium rare topped with melting garlic butter
You'll Need…
Garlic Butter
100g butter
2 tablespoons parsley, chopped
1 clove garlic, crushed
1/2 lemon, juiced
2 teaspoon dijon mustard
1 teaspoon salt., flakes
Steak
300g eye fillet, as many as you have people to feed
Olive oil
Salt & pepper, to season
Directions
Fire up the grill for indirect medium heat if reverse searing or direct medium-high heat if grilling
Remove steak from fridge, rub with a little olive oil and season with salt & pepper, allow to reach room temperature
In a bowl, whip butter until fluffy, add remaining ingredients and whip some more. Refrigerate while preparing steak
Once grill is at temperature cook steak to medium rare using reverse sear method or 4 minutes each side if grilling, remove steak from grill and wrap with foil and allow to rest for 5 minutes.
Remove butter from fridge. Using a small cookie cutter, cut out discs of butter. Place a disc on each piece of steak on a plate or dish. Place steak with butter on grill, with lid on for 30-40 seconds to allow butter to melt
Remove from grill, serve immediately.