These chicken nuggets are an easy dish to prepare and can be cooked outside over hot coals or inside on the stove. All you need is a hot fuel source and a cast iron pan.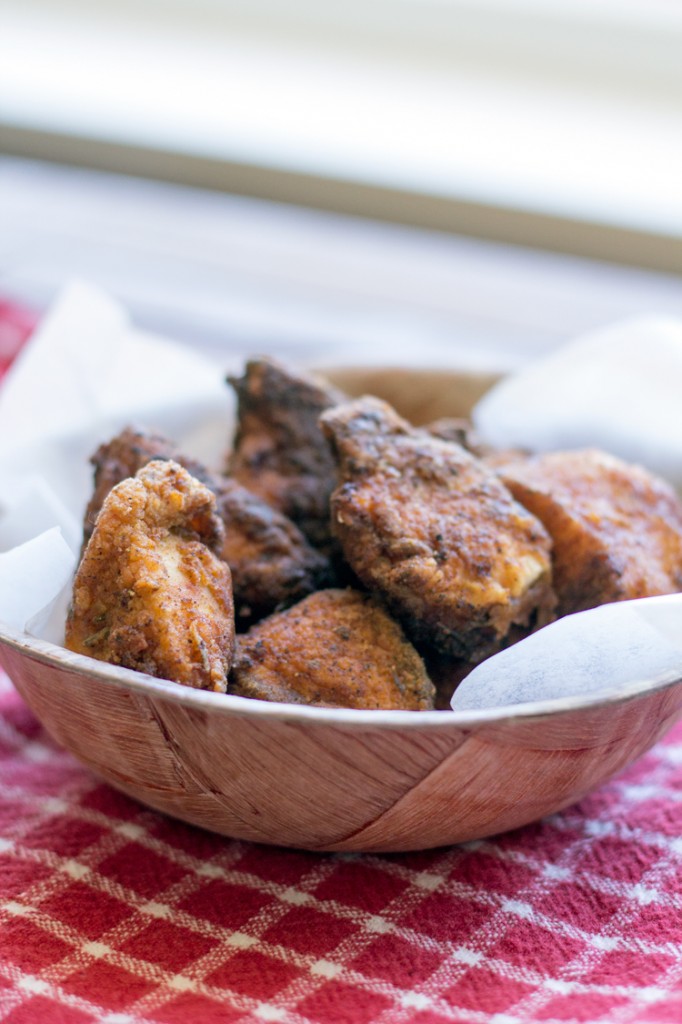 Prepare your barbecue for direct heat grilling, use a full chimney load of coals and have them as close to the cooking grate as possible, heat a cast iron pan with 1 cm of rice bran oil over the coals with the lid closed.
The chicken is prepared by soaking in a mixture of milk and white vinegar. If you are in a hurry, this can be done in as little as 20-30 minutes. 2-3 hours of soaking is ideal.
The spice mix can be made up of anything you have handy, even a dry rub like jerk. It is really up to you and the palette of who you will be serving. This particular recipe calls for ground chili and cayenne pepper for some kick – your tastes may vary.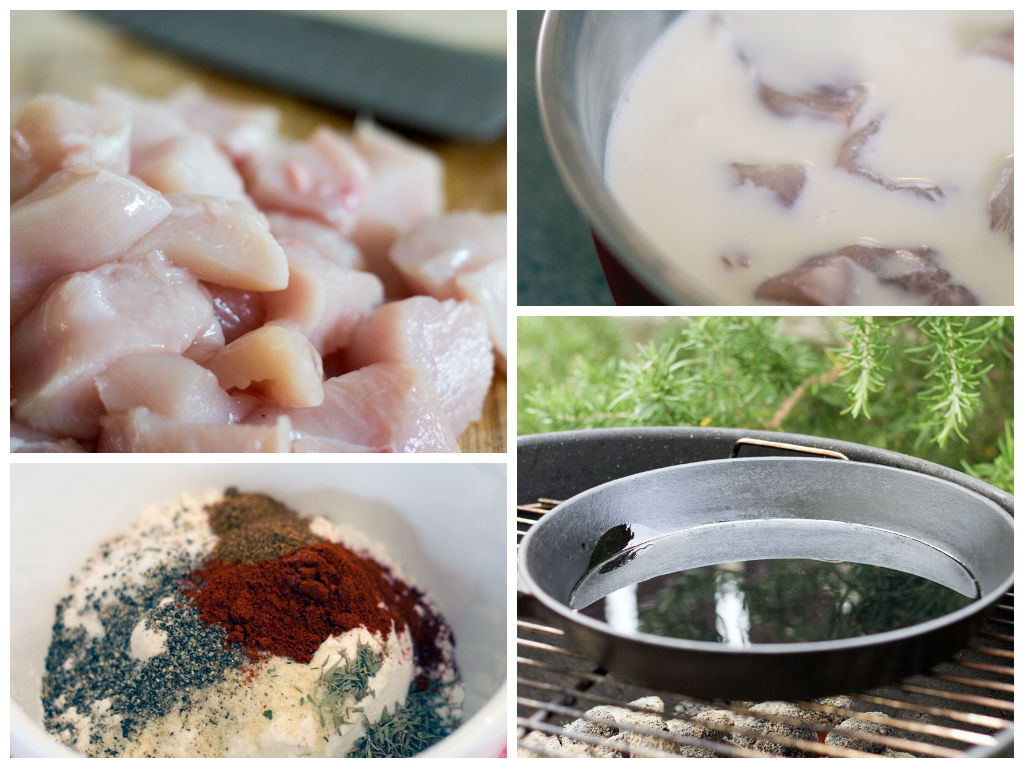 Once the oil in the pan is piping hot, with the lid removed, simply cook each piece of chicken for 3-4 minutes per side. Cook the chicken nuggets in batches until all are cooked.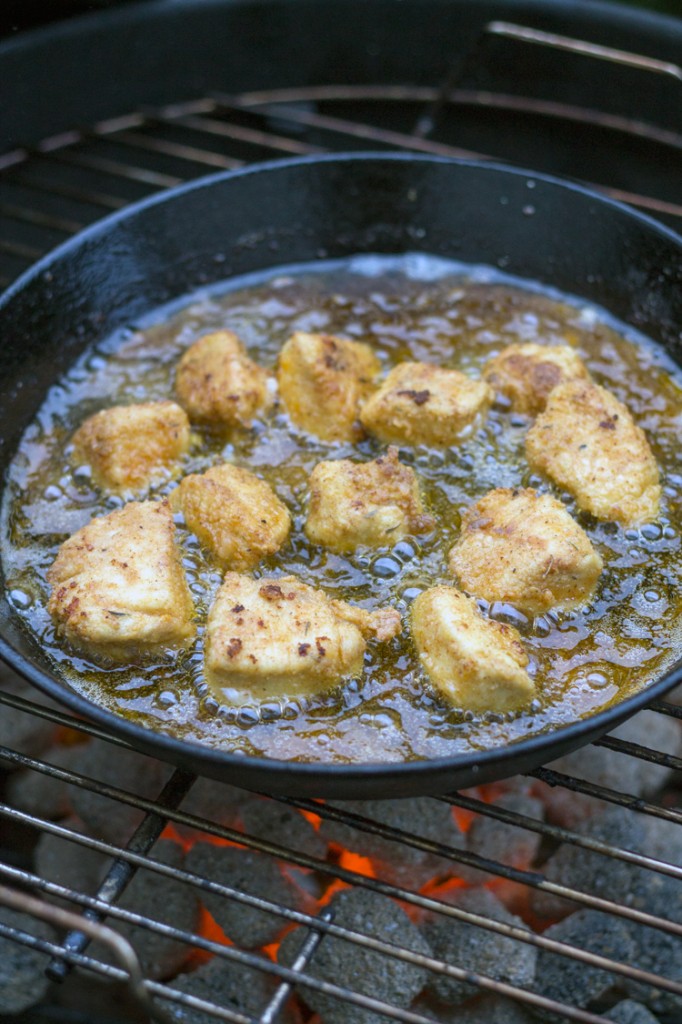 Dry the cooked chicken nuggets on paper towels to absorb any excess oil before serving. While this is happening prepare the aioli. Be sure that you are careful with the mixing to avoid separating the ingredients – aioli is basically mayonnaise with garlic so should have a mayonnaise texture.
These chicken nuggets are delicious and completely satisfying in any situation. Can be served as a snack before the main dish or as a main dish in larger quantities with chips and a salad.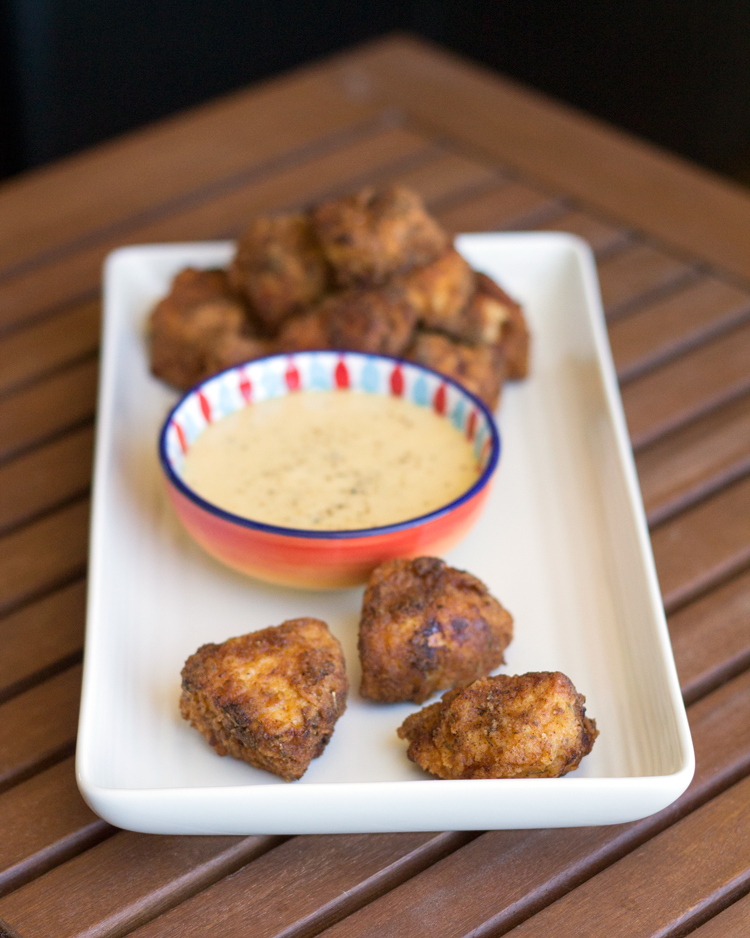 Delicious chicken nuggets coated in a spicy batter served with homemade aioli
You'll Need…
For the chicken nuggets:
500g Chicken breast (free range)
1 cup milk
1 tbsp white vinegar
1 cup flour
1 tbsp smoked paprika
1 tbsp onion salt
1 tbsp dried thyme
t tbsp dried oregano
1 tsp ground chili
1 tsp ground cayenne pepper
1 tsp salt
1 tsp ground pepper
For the aioli:
4 cloves of garlic
2 size 7 eggs (free range)
1 tsp lemon juice
1/2 cup olive oil
1/2 cup extra virgin olive oil
Salt & Pepper to taste
Directions
!For the chicken nuggets:
Begin with mixing the milk and vinegar in a medium sized bowl, set aside for 5 minutes
Cut the chicken into bite sized chunks, not too small
Soak chicken in the milk mixture for 2-3 hours
Prepare Weber for high heat direct cooking, heat a cm of rice bran oil in a cast iron pan directly over the briquettes
In a zip lock bag mix the flour with spices and add the chicken pieces, discard the milk mixture
Seal the bag and shake vigorously until the chicken is evenly coated with the spice mix
Once the oil in the pan is at a high heat cook the chicken in batches, 3-4 minutes each side until the pieces are golden in colour and chicken cooked through
Using paper towels, pat dry and soak up any excess oil before serving
!For the aioli:
In a food processor or blender add garlic cloves and a 1/4 of the olive oil
Use the pulse button to mix the garlic and olive oil into a paste
Add the two eggs and lemon juice, pulse slowly while adding the remaining olive oil
Spoon into an appropriate serving dish once the mixture looks like mayonnaise, with a fork mix in the salt and pepper before serving